Brief Insight
Autovalues Engineering was established in 1964 in Bradford, West Yorkshire, England. From humble beginnings Autovalues is now a major sub-contract machining facility. From its modern all CNC (Computerised Numerical Control) premises goods are produced and despatched to customers in the motor, water, oil, gas and packaging industries to mention but a few.
Our modern machining facility comprises of CNC machines from the leading names in the industry such as OKK, Okuma, Mori Seiki, Akebono, Bridgeport and many others.
Our 3 and 4 axis machining centres have capacity up to 1300 x 800 x 700, and our 2 axis, 4 axis and sub-spindle lathes have capacity up to 580 diameter x 800mm between centres.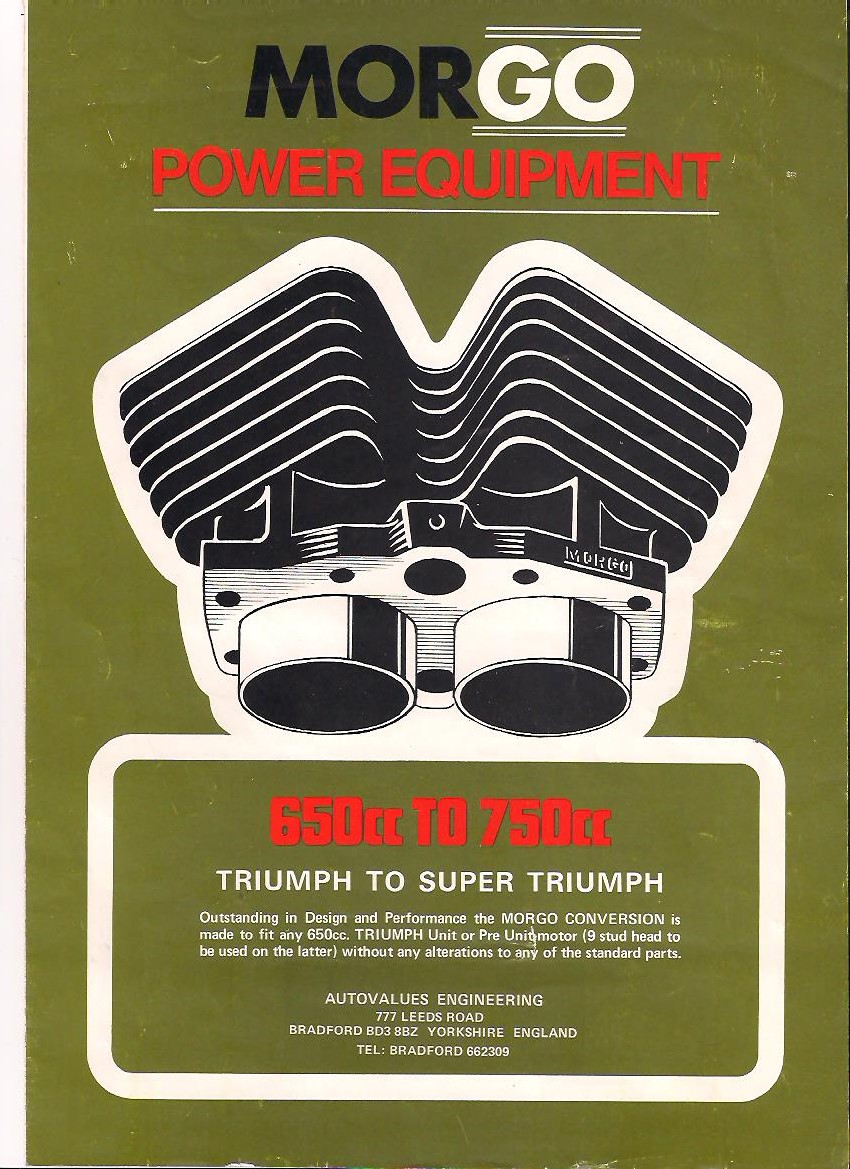 The birth of Morgo Power Equipment
In late 1967 Autovalues started the development of a 750cc conversion for the Triumph 650 twin motorcycle and the name Morgo was christened, The Triumph 750 Big Bore Kit was released to the public in December 1969.  The first batch being delivered to Kershaws Motorcycles Bradford Yorkshire.
One of the first kits was sold by MR. MOTOR CYCLE himself ALLAN JEFFERIES (THE HAT.) and of course ridden by his flying son (MR. 750) TONY JEFFERIES of Shipley, Yorkshire, England.
In 1971 Triumph Meriden came knocking at the door asking if they could use our kit on their works bikes as they had not produced enough 750's to comply with the ACU regulations and they wanted to race 750's, and race they did.
It was not long before the 750 kit was being used in drag racing with single and twin engined machines taking the top spots.
Follow the link here for the history of the drag bike build – Morgo Drag Bike build thread
Early adopters included, Paul Windross and Ray Feltell.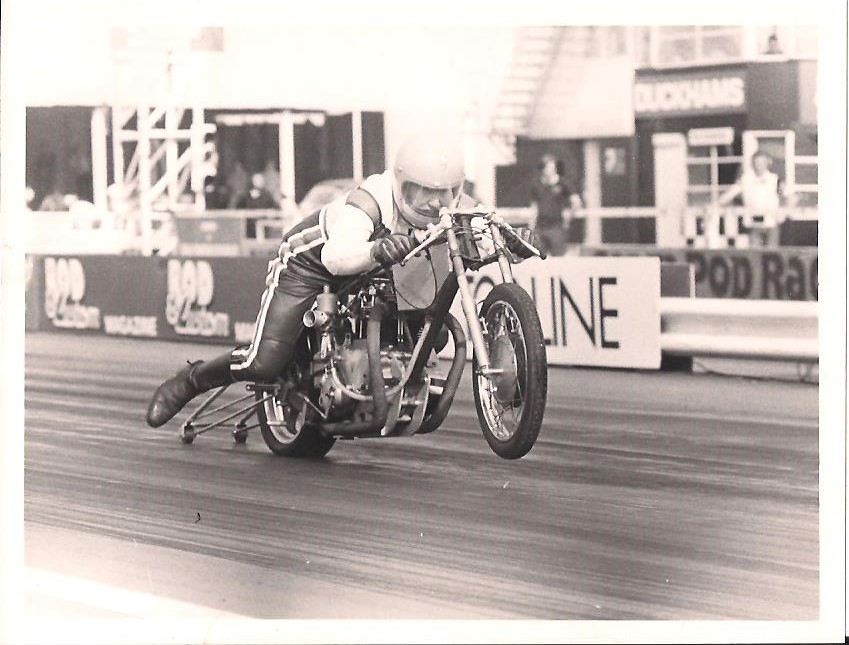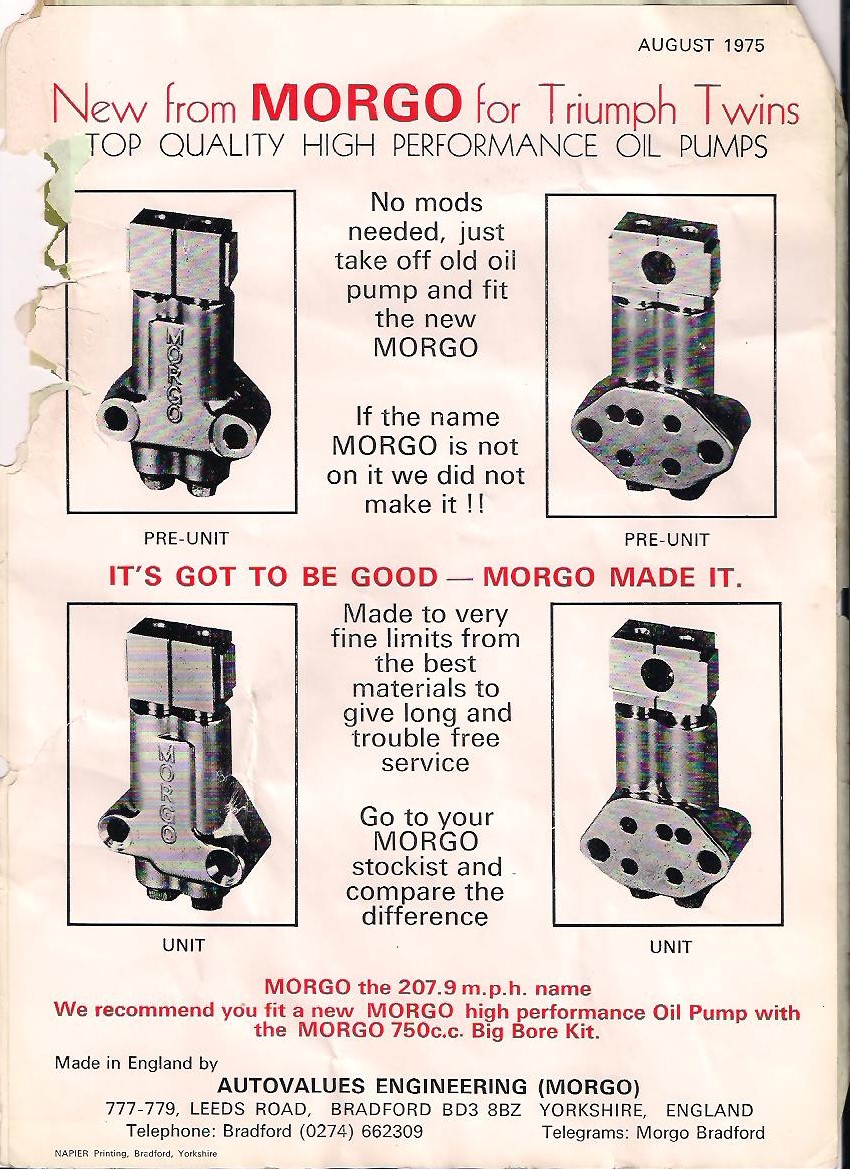 By 1974 it had become apparent that there was a real need for a high quality plunger type oil pump for the Triumph twins, development of the unit and pre-unit plunger pump was completed in August 1975, an estimated 1000 pumps, 700 pre-unit and 300 unit models would be sold over its 5 year production life, in 2005 we passed the 100,000 mark with an almost perfect 50/50 split. "We can all get it wrong" said the hedgehog climbing off the toilet brush.
The range was gradually expanded over the years and by 1987 people were asking for a better type of oil pump for there bikes, the development of the rotary pumps culminated in the first production run of 50 Triumph unit rotary pumps in December 1990, these were followed in 1992 by the pre-unit model.
1995 saw the first of the Ariel rotary pumps, the Sq4 Mk2 this was followed by the Ariel single in 1997 and the Sq4 Mk1 in 1998. We said if we could sell 50 of the Sq4 Mk2's we would be happy, 1500 and counting, lightning does strike twice.
The last few years have seen the development of Triumph Tiger Cub pumps along with Ariel Single plunger pumps and pumps for the early Triumph singles along with many other items like oil pressure gauges and 12 point nuts.  All made to exacting standards from the best materials.
Interspersed with motorcycle parts many other products were developed including single and V twin air compressors as well as special purpose pumps for strange applications like the rear axles of racing trucks and cooler units for refrigerated trailer trucks.
Morgo equipment is distributed throughout the world with dealerships in the UK and most other countries.
As our founder Tony always says "Why is it you complain about the price but never about the quality?"